Qantas has made major changes to its onboard menu as a part of its 'significant menu enhancement program'. As a part of the program the airline will introduce new meals and large portions across all cabins.
According to Qantas, this is their biggest single investment in inflight and lounge dining in a decade, which is a key element in its customer investment programs.
Other parts of that package include $67 million domestic and international lounge expansion, aircraft renewal and new routes.
Qantas upgraded its domestic economy menu in October 2022 and the new changes are an enhancement to what is already on the offer for a better customer experience.
Markus Svensson, Chief customer officer said: "The new dishes, generous portions and premium produce would take the inflight dining experience to a new level. Premium food and wine are one of the top three reasons our customers choose to fly with Qantas, so this significant boost means we will be able to further our efforts to deliver a world-class experience in the sky."
The new menus will use seasonal ingredients, and there will be plant-based options in all the cabins.
In first class, some highlights that will be served include Calvisius Caviar on buckwheat blinis with Pepe Saya Creme Fraiche, Queensland Spanner Crab and sweet pork salad with green mango, cashews and Nam Jim dressing and Crumbed Margra lamb cutlets with lemon myrtle celeriac puree.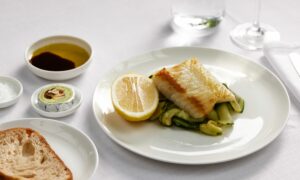 In business class, the choices include Seared grasslands beef fillet with Café de Paris butter, Bannockburn free-range Chicken Kyiv and Seared snapper with black bean sauce, seasonal greens and salted chili.
The choices in premium economy include salmon with tomato fennel sauce, red quinoa and brown rice or braised lamb shank with red wine mushroom sauce and potato puree to choose from.
The economy cabin will be served with Cajun prawns with spiced rice, Korean chili and garlic chicken with kimchi and Black pepper beef with oyster mushrooms on the cart.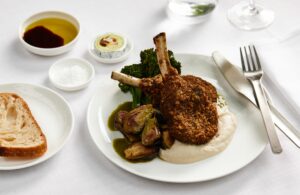 Following the upgrade in domestic economy in October last year, Qantas has announced changes to the business class cabin service. More lighter options will be available, such as Ploughman's and cheese plates, Free range chicken and pistachio terrine, Charcuterie and Green pea soup with mint.
On longer flights, starter salads will be available, including Grilled prawns with Asian slaw and edamame and Tasmanian smoked salmon with kale and sweet potato salad. Pre-take-off juice and water and premium snacks such as Koko Black chocolate will also be served.